FLYTE's First Class Goes to Mexico Thanks to YOU!


I get countless emails from people about how they have just taken their first trip and how their whole life has been flipped upside-down as a result. Travel connects you to people and communities that you never thought you would get to know, and to a you that you never knew you were.
Unfortunately, not everyone is lucky enough to travel — especially young students. Not everyone has parents to take them on RTW adventures, send them to study abroad, or even take them on a road trip over the weekend. Lots of schools in America don't have the resources to maintain their art and gym classes, let alone send students on trips outside their community.
Last year, I decided it was time to launch a non-profit called FLYTE (The Foundation for Learning and Youth Travel Education). The mission of this non-profit is simple: get young people to travel overseas.
And today I have super, duper, amazing news about FLYTE!!
I couldn't be more excited to announce that FLYTE is partnering with BEST Academy High School and Atlanta Public Schools to send the first FLYTE crew of students to study in Mexico this month!!!!!
In our initial fundraising round, we raised over $15,000 in donations from you! I am truly honored that so many of you wanted to contribute to this mission and I am also deeply grateful and humbled that when this charity was just a dream, you trusted in me to make it a reality.
And today it is a reality!
Thanks to all of your donations, in two weeks' time, the BEST Academy High School students will be in Merida, Mexico to take Spanish courses, live with host families, volunteer, and learn more about the community, culture, and history of Mexico! Thanks to the partnership with FLYTE, this year The Boys Go Global Program will be bigger than any trip before. Twenty people (15 students and 5 educators) will be learning and volunteering in Mexico!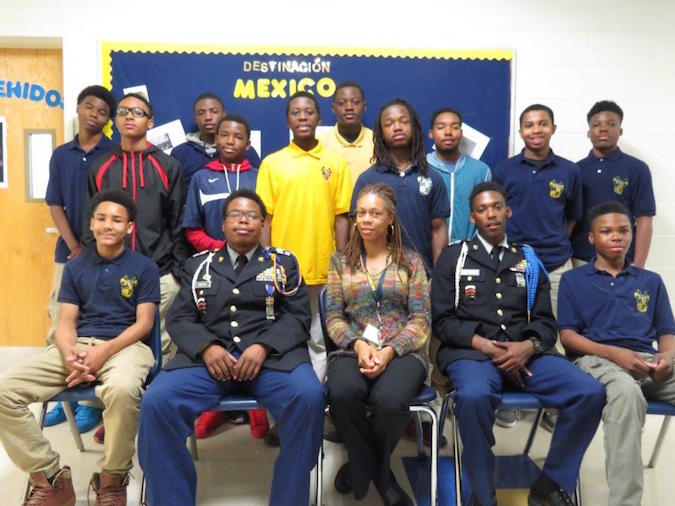 BEST Academy High School is an all-male public school in the Bankhead area of Atlanta. BEST Academy operates with limited resources and has a high population of students qualifying for reduced-priced meals. For these students, the chance to take an international trip may not have even crossed their minds.
For the past five years, Spanish teacher Erica Pereira has been tirelessly committed to making international travel a reality for them. She has worked with students, the school, and the community to raise funds to take a few students on trips to Panama, Guatemala, and Costa Rica.
When Erica first starting teaching Spanish classes at BEST Academy, she realized that many of her students hadn't been on a plane before, or even left the state of Georgia! Knowing firsthand the power of travel, Erica knew she had to pass it along. She started The BEST Boys Go Global Program to start fundraising for travel (and international volunteering) experiences for her high school students.
"These experiences abroad are life-changing for the students who participate; and even for their classmates, friends, and families who cheer them on and support them from home.  There is definitely a domino effect of positivity that radiates through this community with each student that we are able to introduce to the world," says Ms. Pereira.
And now here students are getting a chance to do something they wouldn't have otherwise. Here are the students in their own words:
None of this would have been possible if not for all of you who donated to FLYTE in our initial fundraising drive!
I'm so grateful to all of you for supporting this project and believing in our mission. We heard from so many enthusiastic readers who not only offered to donate monetarily, but who also wanted to donate their time and skills. (Currently, we are creating a group for dedicated volunteers, and I will let you know more information about how to get involved soon).
Exciting news #2: We have already started working on our next trip! We received countless applications from schools throughout the country applying to take their students on a summer trip abroad. After much consideration, we selected an incredible school located in Washington DC. I'll have more information on that school when it's official!
Your donations have already funded one school trip. Now, we're raising $32,000 for our next school!
100% of your donations right now go to the school programs. Currently, I personally pay for all administrative costs out of my own pocket. Every dollar we raise goes directly towards the costs for the school's travel expenses.
For just $10, you can help us fund our next program!
Think about that — for less than the cost of a night in a hostel, you can help make a difference in a young person's life. You can help teach someone the power of travel and give him or her the opportunity to see a world they might never have been able to. Let's pass the power of travel on to others!
Even better, your donation will get you access to updates about the student expeditions, their progress, and our foundation events, as well as messages from the teachers and students about their travels. Supporters will have exclusive access to the latest details on how they are helping change the lives of the next generation.
Plus, if you want to donate more, I've included some goodies as incentives for higher donations:
$25— My two travel e-books (How to Teach English Overseas and The Ultimate Guide to Travel Hacking) and the electronic city guides to NYC, Paris, Bangkok, Amsterdam, Stockholm, and Hong Kong. (Value: $92)
$50— All of the above PLUS a signed copy of my print book, How to Travel the World on $50 a Day, a FLYTE t-shirt, and another with the saying "Keep Calm and Travel On." (Value: over $132)
$100— All of the above PLUS 30 minutes of travel planning with me and a personal thank-you message from the class that your donation helps send overseas. (Value: over $210)
$500— All of the above PLUS an hour total of travel planning with me, a souvenir from the students' trip, and a backpack from REI for your own!
$1,000— All of the above PLUS a free flight to anywhere in your region of the world and three extra copies of my print book.
$2,000— All of the above (with exception of the free flight) PLUS I will fly you to NYC for two nights, put you up in an Airbnb, and take you to lunch, and you'll be listed as a premium donor on FLYTE's website and be invited to special donor events (U.S. residents only)!
Fundraising Websites – Crowdrise
Help us fund this second school trip. Help us change the world.
Exciting news #3: Since our 501(c)3 status is in the works, IRS rules say that while our application is pending, all donations are 50% tax-deductible. That means if you donate $5,000, $2,500 is tax deductible!
*****
Travel is a privilege. You're reading this because you, like me, have caught the travel bug. We've gotten so much from travel in our own lives. Now, FLYTE gives us an opportunity to pay-it-forward and help students see how beautiful other countries and cultures are. Opportunities like this make a huge impact. The more funding we have, the more schools we can send abroad.
Let's be a community that makes a difference and helps others.
I will close this out by not only offering my sincere gratitude for your help with this, but by also passing along Ms. Erica's:
'Thank you' is not nearly enough to express my gratitude, but it is my hope that you fully understand how grateful I am for your generosity and for helping me change the lives of so many great young men.
For more information about FLYTE, ways to donate, get involved, or questions about our structure, visit the FLYTE website. 
– Matt